Bryant T6-PAC01-A Thermostat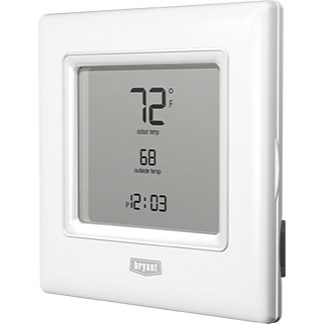 Keep Your Cooling Under Control With Style
As a part of your central air conditioning system, this Bryant® Preferred™ Programmable thermostat offers an attractive, slim design to enhance any room. Programming is a snap — you can plug the optional ExP® memory card into your computer's USB port, or open the face and use the easy-to-understand buttons.
Wi-Fi® Remote Access: Not Available
Humidity Control: Not Available
Features
Air purifier and ventilator compatible
7-day programmable, up to 4 time periods per day, temporary or permanent hold
Energy saving Smart Recovery
Automatically changes over between heating and cooling
Reminders for fixed-schedule timed filter changes
5-year parts limited warranty upon timely registration
Keypad lockout
24-hour clock back-up
Options
Outdoor Air Temperature (OAT) sensor 
ExP memory card and expansion port allows programming via computer
Compatible with 3-zone panels ZONEBB3ZHP01 AND ZONEBB3ZAC01
Remote room sensor application
Specifications
Efficiency Management 
Programmability 7-day; 2-4 periods/day and vacation
Smart Recovery Actively manages system ramp up during "away" periods to meet homeowner comfort needs while saving money.
Conveniences
Computer interface Program your thermostat/thermidistat with your computer with  optional ExP digital memory card
Reminders Automatic, timed air filter, humidifier pad, and UV light change reminders
Auto changeover Switches between heating and cooling operation as needed
Technology
Perfect Heat® technology Available with staging-capable heating equipment 
Staging 1 Heat / 1 Cool
Battery-free Powered by connection to major system components
Aesthetics
Screen Backlit LCD screen 
Cover Durable, clean, white outer casing
Design Slim profile possible when equipment control module is mounted on furnace or fan coil
Size 5.2″H x 5.2″W x .9 or 1.3″D